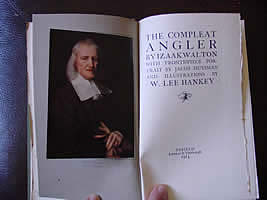 Vintage Rod Components
(vintagerods.com)
BUY A PIECE OF FISHING TACKLE HISTORY
Located at 4062 Dupont Parkway, Townsend, Delaware, 19734, USA.
Phone 302-378-7243. ontact us by email .
The shopping cart is new. If you run into any irregularities PLEASE contact me (302-378-7243, or hans@comped.org).
SPECIAL
All kits priced $19.95, both with natural and colored blanks. Buy two, pay only $9.92 for 2nd kit.
All still with high quality American-made components, namely the last of the original Conolon® blanks and Varmac ("Jewelry of Fishing Tackle") reel seats.
BACKGROUND
In 1982 the Conolon® rod manufacturing plant in Santa Ana, California, was shut down and rod production was taken off-shore. We acquired the rod component inventory on hand at the time and it is being offered here for sale.
Click here for what we learned from packaging labels.
ABOUT CONOLON®.
During the heyday of American fishing tackle manufacture, Conolon® was one of the premier fiberglass blank manufacturers. Conolon® blanks were chosen by major rod manufacturers for their premier rods; Garcia for the Lee Wulff line of fly rods and the Payne Rod Company for their in-house built glass rods. Conolon® was also the choice of the best custom builders, Russ Peak and Vince Cummings among them.
UNIQUE FEATURE OF THESE BLANKS
Most of the blanks we acquired were only partially finished. We got them after fabrication and sanding but before the normal painting step that all commercial blanks are subjected to. Blanks in this stage of manufacture cannot be purchased; we just lucked out to get them at this stage because ----
with the application of a clear coat they are absolutely beautiful. They have a wood-like appearance with brown fiberglass/resin showing through. No two blanks look exactly the same because of the normal variation in the color of fiberglass/resin in use at that time. In the opinion of most of our customers, the blanks are beautiful and rich-looking.
Most of these blanks are very light and all are strong. We have NEVER had a blank returned because of breakage. In all likelihood you have never seen blanks like these before.
Conolon® is the registered trademark of the Abu Garcia Corporation.